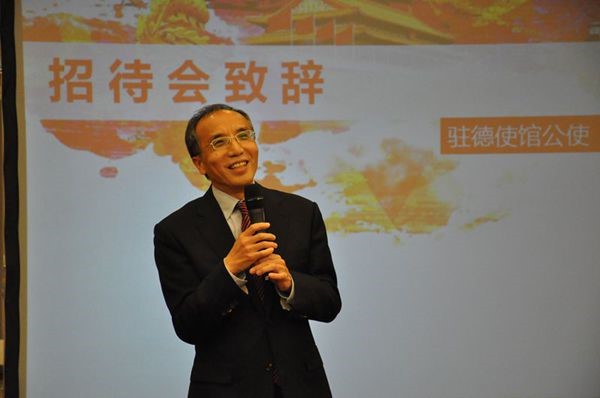 Commentary: China, Austria enjoy profound friendship
By Li Xiaosi, Chinese Ambassador to Austria
Chinese President Xi Jinping and visiting Austrian President Alexander Van der Bellen agreed to establish a Sino-Austrian friendly strategic partnership and advance bilateral pragmatic cooperation on Apr. 8.
Invited by Xi, Van der Bellen headed a large delegation on his state visit to China, including Austrian Chancellor Sebastian Kurz, four cabinet ministers, and president of the Austrian Federal Economic Chamber .
The Chinese trip of Austria's largest-ever delegation in history is described as "a rare and unusual super visit" by local media.
The "super visit" indicates Austria's great enthusiasm to conduct cooperation with China and signals a new historic starting point for China-Austria relations.
In recent years, the two countries have enjoyed solid bilateral ties, which can be evidenced by increasing new drivers and fruitful cooperation results in all areas.
China is the fifth largest trading partner of Austria, and the biggest in Asia. In 2017, bilateral trade totaled $8.39 billion, and China invested $320 million in Austria and received $94.88 million from it. In addition, over 900,000 Chinese tourists visited Austria last year.
The world's first intercontinental quantum-encrypted video conference, jointly made by scientists from the two countries, has also been a highlight of bilateral cooperation in science and technology.
Besides, China's five development concepts featuring innovation, coordination, green development, opening up and sharing have a lot in common with the Austrian strategy that prioritizes reform, innovation and economic growth.
Both countries should take the chance to usher in a new chapter for the development of bilateral relations.
With developed economy, advanced technologies, beautiful environment and innovative enterprises, Austria is indeed a low-profile leader in multiple fields. Both the government and enterprises of Austria welcome, support and expect an active participation in the international cooperation under the framework of the Belt and Road Initiative.
China's economy is making a shift from high-speed growth to high-quality development, with great efforts in promoting supply-side structural reform, pollution control, and the Belt and Road construction.
The two countries have huge potential for cooperation in high-end manufacturing, innovative research and development, infrastructure construction, ecological protection, green development, health care and winter sports. Such cooperation is believed to create a better life for the two countries.
In addition, both as supporters of multilateralism, trade liberalization and investment facilitation, China and Austria share broad interests in addressing global challenges, including peaceful settlement of regional conflicts, counter-terrorism and tackling climate change.
As Austria is to take the rotating EU presidency in the second half of this year, the strengthened China-Austria communication and coordination will boost mutual trust between China and the EU, and deepen their partnerships for peace, growth, reform and civilization.
It is also conducive to improving global governance, maintaining international peace and security, and promoting common development of all countries.
I, therefore, firmly believe the China-Austria relations will constantly advance to new levels under the guidance of leaders of both sides and with support of people from all walks of life in the two countries.
(Source: People's Daily)